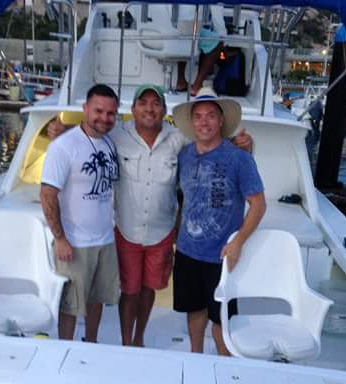 It all started with a sport-fishing charter trip in Cabo San Lucas. We arrived at the dock before sunrise, purchased breakfast from a local vendor, and boarded a 31′ sport fishing vessel. We were excited at the prospect of hunting down marlin. Four miles off shore, we put all nine lines in the water with live bait caught by locals. Within less than an hour and a half of boarding the boat, we heard that telltale drag scream. Fish on! ¡Pescado! We went from fishing to catching. For the next thirty minutes to an hour, our arms ached, our adrenaline rushed, and we toasted to our catches. At one time, we had six fish on lines at once! After we caught ten fish, we had met limit for yellowtail and we went offshore to catch the big one: a 500+ lb blue marlin. Three times we thought we caught the big one, but it wasn't meant to be. We will have to head back out in the future for another hunt!
After the shouting, bonding, and exhaustion, we realized we wanted to share this experience with others. So we set forth teaming up with a local to start our first location in Cabo. If you book with us in Cabo, you'll meet Martín! He is a great guy and was the one to book our first offshore fishing charter.
Los Gringos Charters partners with local marina associates to bring you fantastic outings.
Jesse "Roberto" Switzer is a seasoned sailor and avid fisherman. Roberto serves in the United States Coast Guard as an Operational Specialist Chief and Future Planning Chief and is due to retire soon. He splits his time between San Francisco, California and Cabo San Lucas, Mexico.
Martin Rios is our bilingual dock master in Cabo. He is a strong community leader, experienced boat broker, and an avid angler. He goes above and beyond for his customers.