The Fleet
We have the size to match your voyage needs.
We can serve any type or size of boat that fits your specified desires and budget. A few items to consider are the number of passengers going to fishing, how hungry the fish may be, your sport-fishing experiences and how long you want to fish. We have extremely reliable boats and seasoned Captains. Like most charters, you will get what you pay for. Be cognizant of cheap prices; fuel is a fixed cost. This usually means you're going to get slower ride out to the fishing grounds or a crew of amateurs that may also want to come home early to save gas. Our Mission is to exceed service expectations and focus on attention to detail. Pray for Hungry Fish!
We have various additional boats available for charter. For info and pricing and available contact us by phone toll-free or by email.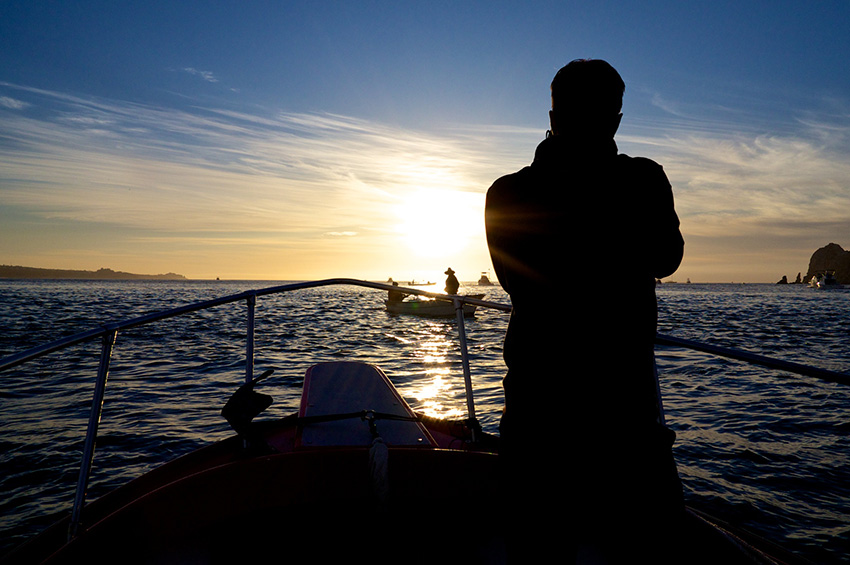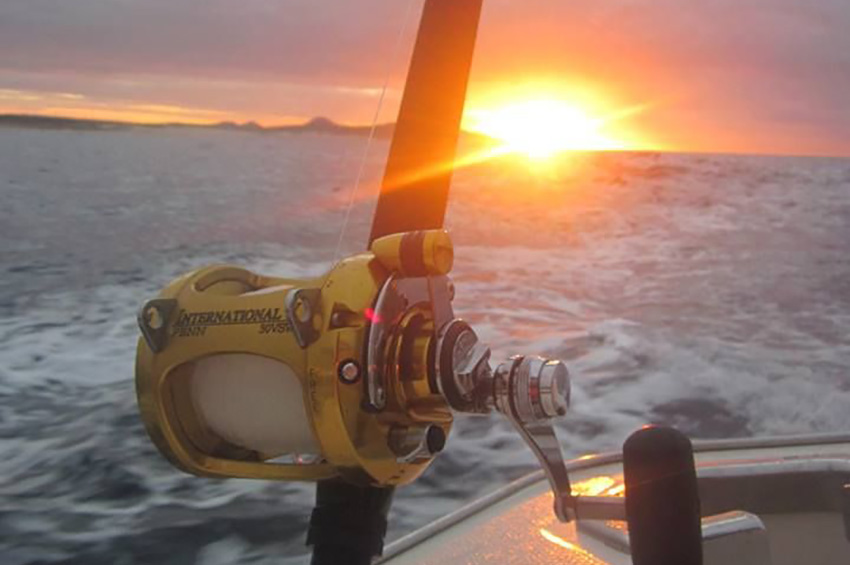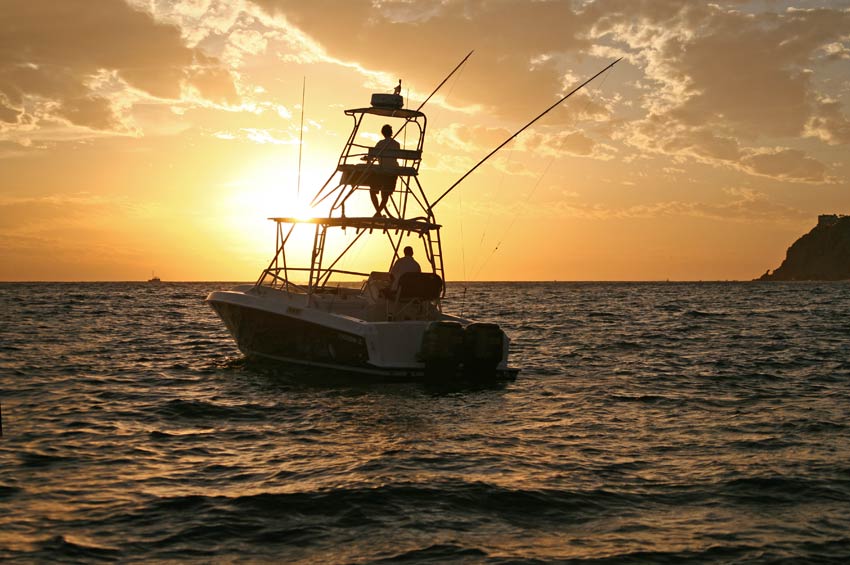 Deposits are 30% of the price for boats 29ft and under, and 50% for 30ft and over.
A half day charter is about 4-5 hours from leaving the dock to coming back. A full day is 6-8 hours dock to dock, and we find that majority prefer this option to get the most out of their sport fishing experience. It takes about 30 minutes to get to prime fishing areas.
The Super Pangas will be guided by a crew of a bilingual crew members. Fishing license, live bait, bottled water, pro rods and reels are included in the charter. Three people is a bit of a crowd on this smaller boat. You have the options to chair fish or freestyle.
Sport fishing boats 30ft and larger will be guided by a crew of two fully bilingual crew members, 16% Mexican sales tax, fishing license, live bait, ice, bottled water, 12 pack of beer, pro rods and reels included in the charter.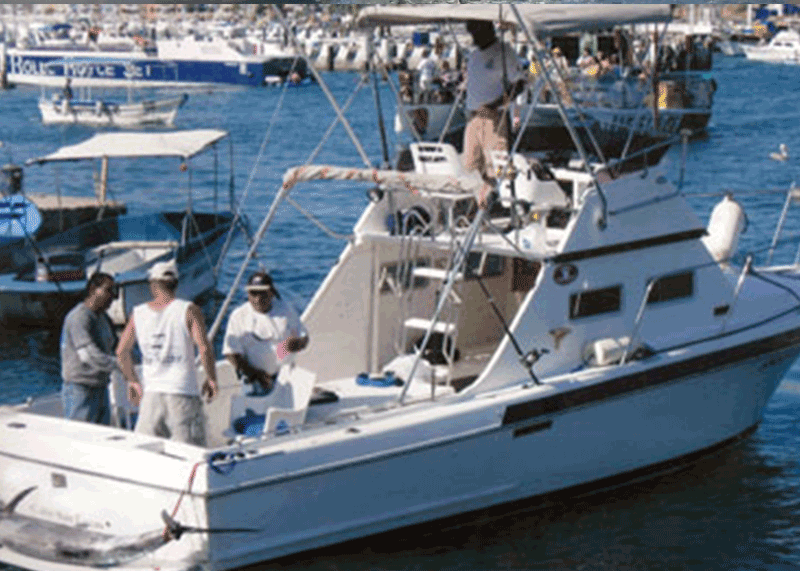 Half Day Price: $450

Full Day Price: $600

Capacity: 4
Licenses Included: 2
Fully bilingual crew
16% Mexican sales tax included
Live bait and Ice
Bottled water
Pro Rods and Reels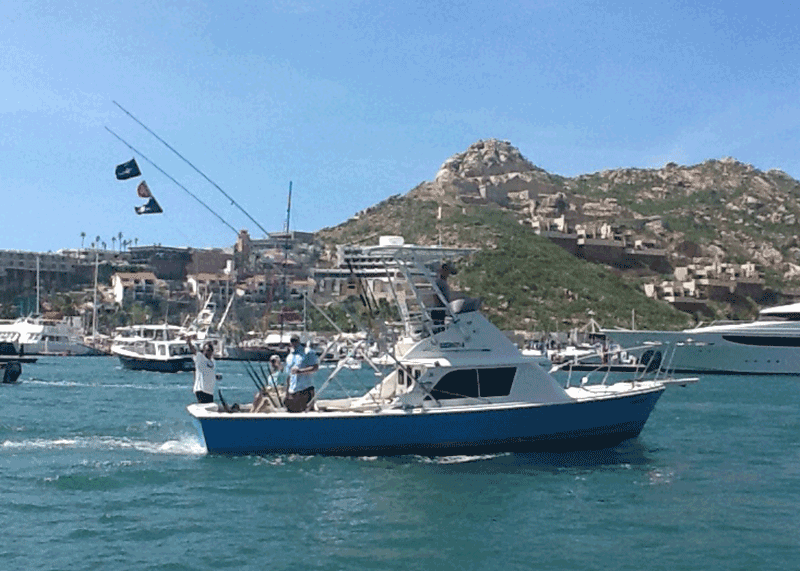 Half Day Price: $650

Full Day Price: $850

Capacity: 4
Licenses Included: 2
Fully bilingual crew
16% Mexican sales tax included
Live bait and Ice
Bottled water
Pro Rods and Reels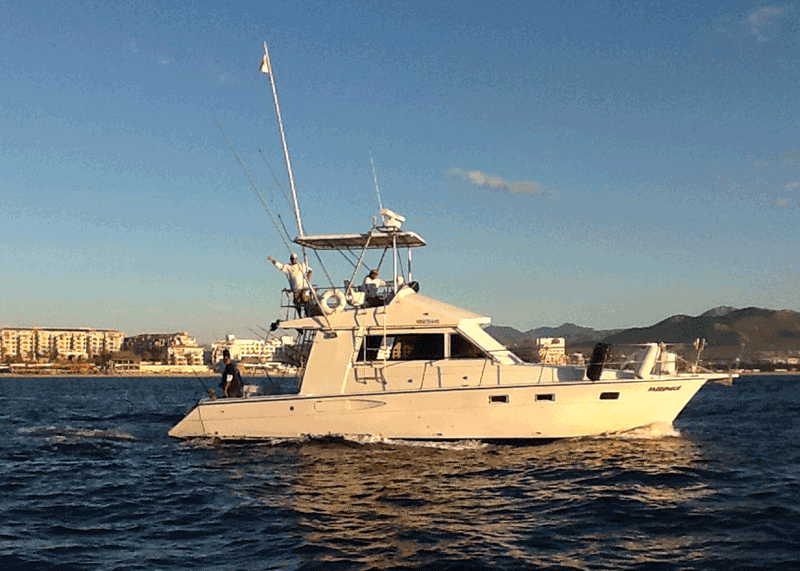 Half Day Price: $1,200

Full Day Price: $1,800

Capacity: 10
Roomy Galley (Kitchen)
Chef Available for Catering Serivces
Licenses Included: 4
Fully bilingual crew
16% Mexican sales tax included
Live bait and Ice
Bottled water
Pro Rods and Reels
Half Day Price: $2,200

Full Day Price: $3,500

Break, Lunch and Drinks
Capacity: 12
Licenses Included: 6
Professional Photography Included
Fully bilingual crew
16% Mexican sales tax included
Live bait and Ice
Bottled water
Pro Rods and Reels
12 Pack of Beer
Free Gringos Charters Hats/Shirts Included
Half Day Price: $2,200

Full Day Price: $3,500

Break, Lunch and Drinks
Capacity: 12
Licenses Included: 6
Professional Photography Included
Fully bilingual crew
16% Mexican sales tax included
Live bait and Ice
Bottled water
Pro Rods and Reels
12 Pack of Beer
Free Gringos Charters Hats/Shirts Included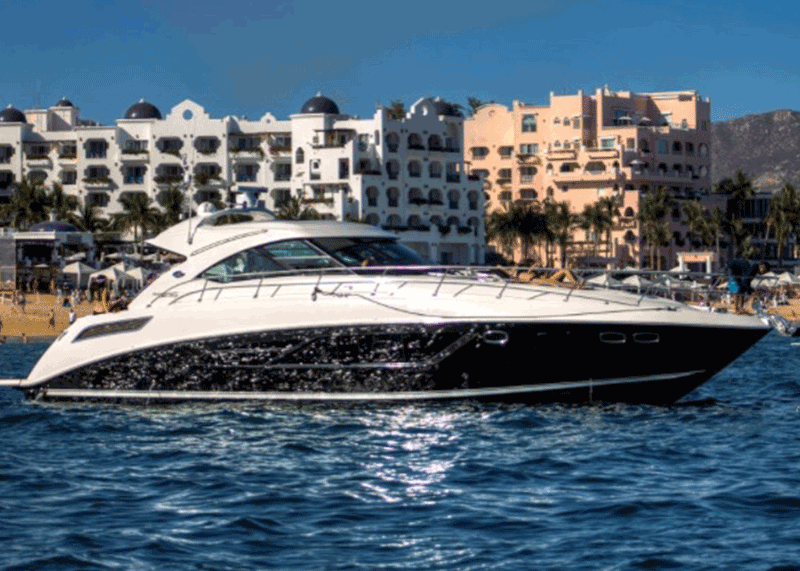 Half Day Price: $1,800

Minimum 3 hours
Capacity: 12
Professional Photographer Available
Open bar
Appetizers
Meals
Use of yacht toys
16% Mexican Sales Tax Included
 Jet skis are separate rentals
Half Day Price: $5,000

Full Day Price: $7,500

Capacity: 12
Licenses Included: 8
Professional Photographer Included
Limited Release Performance Fishing Shirts
All fishing tackle & equipment
Mexican fishing licenses
Live bait (subject to availability)
Breakfast and lunch
With your choice of beer, soft drinks or bottled water
Dock fees
Safety equipment