Jake Bastien and Jesse Switzer teamed up recently for their subsequent offshore and inshore business fishing trip.  Jake could wait for Jesse to get to Cabo so he flew in a few days early to promote his FishHeads brand.  It turned out locals LOVED his hats.  FishHeads hats were different.  The hat quality is met with Jake quality of character.   Mr. Bastien, Founder and Chief Angler of FishHeads, wins the hearts of everyone he meets due to his genuineness.  If you spend any time in the Cabo marina you find Jake's hats on the heads of both local and tourist anglers. https://shopfishheads.com/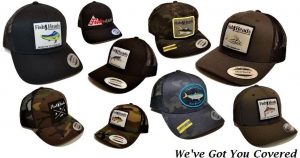 Jake, Stevie, Virginia and Jesse spend ample time on the decks of cabo charter boats and in the surf while in Cabo.  Countless species of fish were caught.  The laughter startered at 5:30am and lasted late into the night.  There was dancing with Elmo in a nightclub, on the fly on the deck training, tons of laughter, timezone challenges, resort crashing and federali.  Find your own story with Los Gringos Charters.  At the end of the day our focus remains the same.
Mission​:
We bring value to every charter by offering clear and straight-forward pricing and giving you personal customer service. This means removing unwanted sales techniques and demonstrating genuine connections with Los Gringos Charters' customers.
Vision​:
We are passionate about improving and enriching the communities we serve in Latin America. We do this through creating partnerships and friendships with local businesses and community programs.
The rest of your story you decide.  Enjoy a few selected photos from our FishHeads and Los Gringos Charters cabo fishing trip.